News and Press
A restless daughter makes waves in Reagle's 'Little Mermaid'
July 31, 2023
By Don Aucoin Globe Staff, Updated July 31, 2023, 4:46 p.m.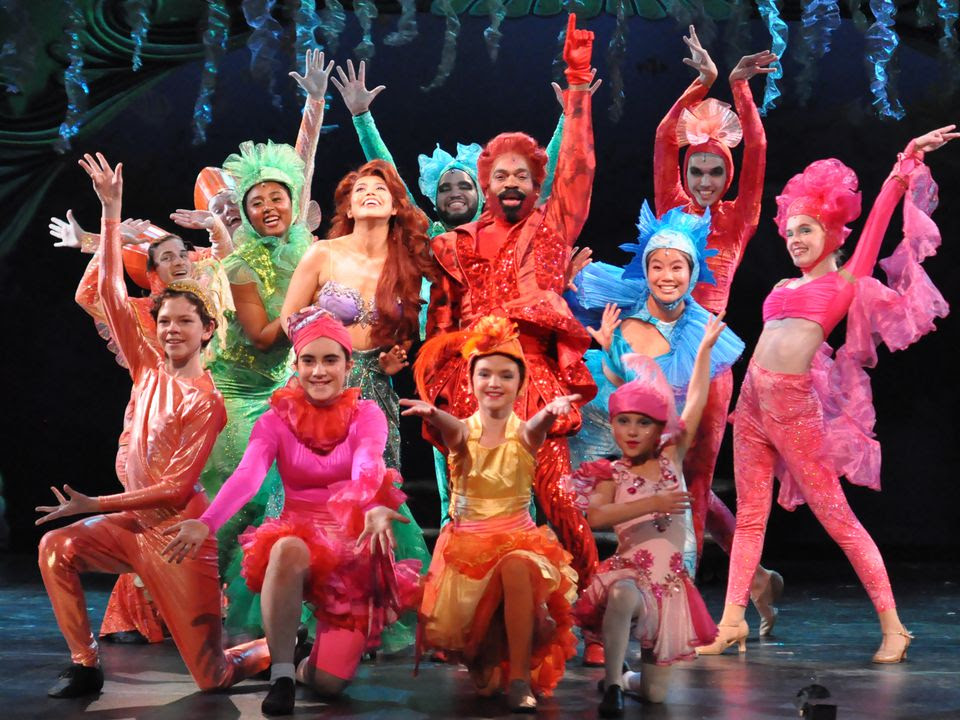 WALTHAM - It's easy to be cynical about "Disney's The Little Mermaid," whose transparent goal to cash in on the popularity of the 1989 animated gem is right there in the cumbersome corporate branding of the stage musical's title.
But it's hard to maintain that cynicism - at least in the moment - when a theater is vibrating with enthusiasm the way Reagle Music Theatre of Greater Boston was last Friday night, largely generated by the younger audience members at whom the musical is aimed.
The bravura direction and whirling choreography of Taavon Gamble - whose choreographic contributions to SpeakEasy Stage's Company's May production of "The Prom" were central to its success - help to obscure the shortcomings of "The Little Mermaid."
When the stage adaptation was created for Broadway in 2008, it was padded with songs that are a notch or two below the perfection of "Part of Your World," "Under the Sea," "Poor Unfortunate Souls," and "Kiss the Girl" (all of which, thankfully, are in the stage version). Alan Menken (music) and Howard Ashman (lyrics) collaborated on the songs for the animated movie. Just two years later, in 1991, the brilliant Ashman died, a huge loss for musical theater. Glenn Slater wrote lyrics for the stage adaptation, while Menken composed the music.
What underlies "The Little Mermaid" is the twinned concept of what it costs to lose your voice and what it takes to find your voice, figuratively and, in this case, literally.
Ariel (Kayla Shimizu), a young mermaid, dreams of exploring life on land, and thereby gaining the independence she lacks as the youngest child (out of seven) of the trident-wielding King Triton (Cristhian Mancinas-Garcia). Of the ocean, she says: "I've never felt at home here."
Her landward aspirations are intensified when she rescues, and is smitten by, the handsome Prince Eric (Ray Robinson) after he falls overboard from his ship. That sets in motion an encounter with the evil and opportunistic sea witch Ursula (Katherine Pecevich), who lures her into a Faustian pact: If Ariel surrenders her voice, Ursula will transform her into a human being for three days. If Eric kisses Ariel, she gets to stay human for good; if not, Ariel is transformed back into a mermaid and is eternally in Ursula's thrall.
There are two impressive things about Shimizu's portrayal of Ariel. The first is the performance itself: She creates an Ariel who's a complex mixture of yearning, defiance, innocence, and resolve. Shimizu utterly nails "Part of Your World," one of the best "I want" songs ever written.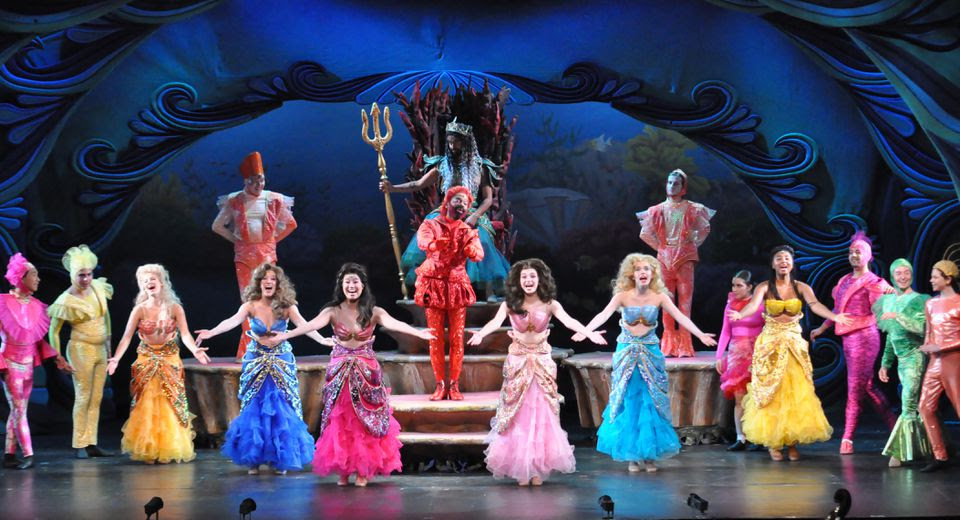 The second is the fact that it was only a few weeks ago that Shimizu finished playing Laurey the farm girl in Reagle's knockout production of "Oklahoma!," helmed by artistic director Rachel Bertone. To take on two demanding - and quite different - lead roles in a pair of big musicals back to back must have been a pressure-cooker of a challenge, but Shimizu has pulled it off.
As Prince Eric, Robinson is unable to transcend the character's built-in blandness; he needs to project more personality. Much the same is true of Mancinas-Garcia, whose King Triton could also use more autocratic force.
Pecevich's Ursula is an enjoyably hiss-worthy villain, one who demonstrates a lip-smacking enjoyment of her own depravity in "Poor Unfortunate Souls." As Ursula's henchmen, Flotsam and Jetsam, Miki Grubic and Alan Cid ooze a creepy, slithery menace. Jack Mullen is reliably amusing as Scuttle the Seagull, an avian know-it-all who is - like Cliff on "Cheers" - often in error, never in doubt.
But the most dynamic performer onstage, as is often the case when he's in a show, is Davron S. Monroe. Clad in a red spangled outfit, Monroe plays the fretful Sebastian the Crab, an adviser to King Triton whom the king saddles with the responsibility of monitoring the restless Ariel. Monroe brings an electric energy to "Under the Sea," making it a rousing and joyous anthem for the very place Ariel wants so badly to escape, while his rendition of "Kiss the Girl" registers as a hymn-like celebration of romance, with a bubble-like delicacy.
The costume design (by Emerald City Theatrical) is a riot of blues, greens, pinks, yellows, and oranges, while the efficient set (original design is by Tony Ferrieri) enables smooth transitions between scenes. The orchestra (music direction is by David Coleman, with Jeff Leonard conducting) performs with verve, including an overture (a relative rarity in musicals these days) and an entr'acte.
Because of strong attendance, a couple of matinees - including one Saturday - were added to the original performance schedule of "The Little Mermaid." The run ends Sunday. After that, here's hoping Shimizu gets a little rest. She's earned it.
DISNEY'S THE LITTLE MERMAID
Music by Alan Menken. Lyrics by Howard Ashman and Glenn Slater. Book by Doug Wright. Directed and choreographed by Taavon Gamble. Musical direction by David Coleman. Reagle Music Theatre of Greater Boston, Waltham. Through Aug. 6. $25-$68. 781-891-5600, www.reaglemusictheatre.org/tickets